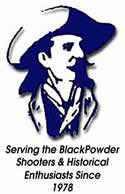 Buffalo Bill's Shooting Store is Your Source to 19th Century Replica Firearms
Buffalo Bill's Shooting Store has been open for business since 1978. The store not only provides supplies, but is a gathering place for friends and customers to exchange information on the blackpowder sport. Richard Graffuis has owned and operated the store for 25 years and provides the knowledge necessary to insure your success in the blackpowder shooting area. Buffalo Bill's Shooting Store specializes in muzzleloading, cartridge guns of the American Old West (Cowboy Action Shooting) and Long-Range Blackpowder Cartridge Rifles.
And coming soon: our new online webstore - browse thousands of items and conveniently order 24/7 from wherever you are.